However, there can be exceptions to this:
● Clothing manufacturers can use single-ply cutting machines for sample production, or they can rely on workers to cut manually for mass production.
● It's basically just a matter of budget or production. Of course, when we say by hand, we really mean by special cutting machines, machines that rely on human hands.
Fabric Cutting at Siyinghong Garment
In our two garment factories, we cut the sample fabric by hand. For mass production with more layers, we utilize an automatic fabric cutter. Since we are a custom clothing manufacturer, this workflow is perfect for us, as custom manufacturing involves a large number of sample production and different styles need to be used in different processes.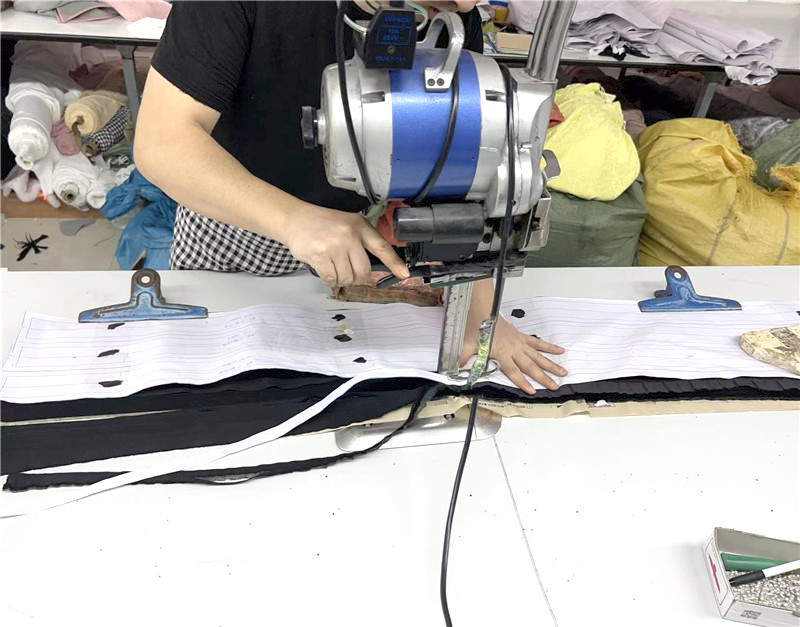 This is a cutting machine that we use when we're cutting fabrics to make samples.
As we make a lot of samples on a daily basis, we do a lot of manual cutting too. In order to do it better, we use a band-knife machine. And to use it safely, our cutting room staff uses the metallic mesh glove shown in the picture below.
The three reasons samples are made on a band-knife and not on a CNC cutter:
● No interference with mass production and therefore no interference with deadlines
● It saves energy (CNC cutters use up more electricity than band-knife cutters)
● It's faster (to set up an automatic fabric cutter alone takes as long as to cut the samples manually)
Automatic Fabric Cutting Machine
Once the samples are made and approved by the client and the mass production quota is arranged (our minimums are 100 pcs/design), automatic cutters hit the stage. They handle precise cutting in bulk and calculate the best fabric usage ratio. We usually use between 85% and 95% of the fabric per cutting project.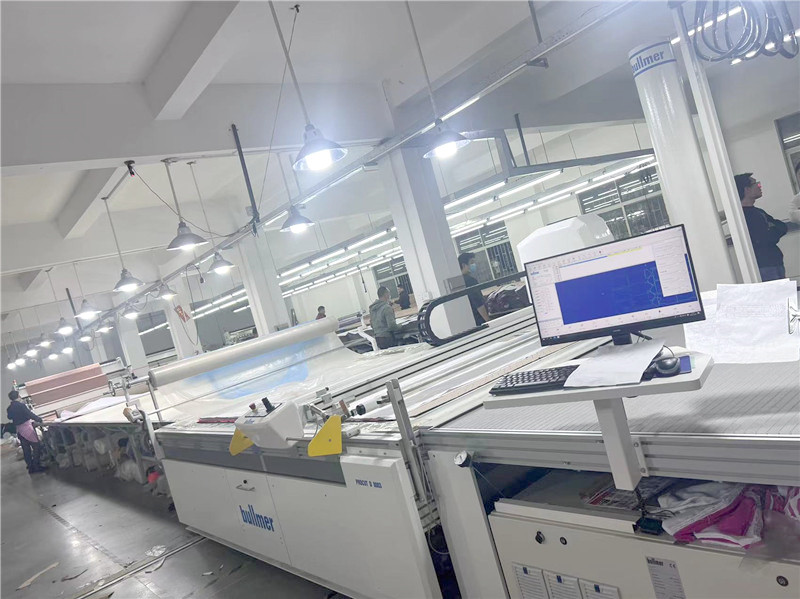 Why do some companies always cut fabrics manually?
The answer is because they're severely underpaid by their clients. Sadly, there are many clothing factories around the world that can't afford to buy cutting machines for this exact reason. That is often why some of your fast fashion women dresses become impossible to fold properly after a few washes.
Another reason is that they need to cut way too many layers at a time, which is too much even for the most advanced CNC cutters. Whatever the case, cutting fabrics this way always leads to some margin of error which results in the clothing of lower quality.
Automatic Fabric Cutting Machine's Advantages
They fasten the fabric with a vacuum. This means there's absolutely no wiggle room for the material and no room for error. This is ideal for mass production. It also ideally choose for thicker and heavier fabrics like brushed fleece that is often used for professional manufacturers.
Manual Fabric Cutting's Advantages
They use lasers for maximum precision and work faster than the fastest human counterpart.
Main advantages of manual cutting with a band-knife machine:
√ Perfect for low quantities and single-ply work
√ Zero preparation time, all you need to do is turn it on to start a cutting
Other Fabric Cutting Methods
The following two types of machines are used in extreme situations -- either extreme cost-cutting or extreme volume production. Alternatively, the manufacturer can use a straight knife cloth cutter, as you can see below for sample cloth cutting.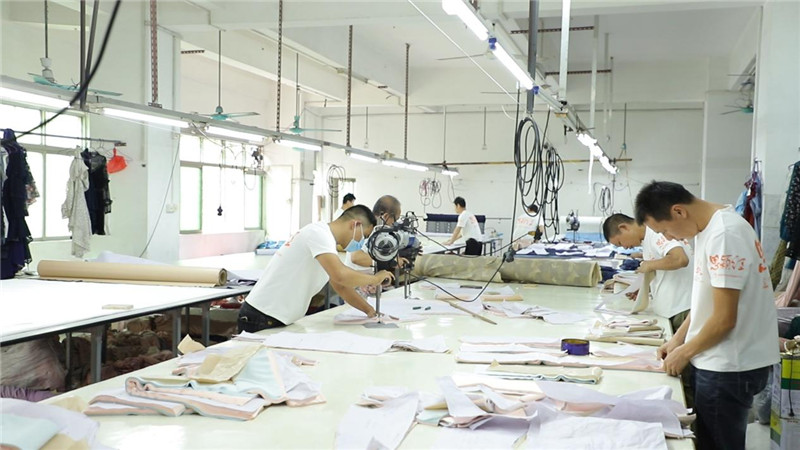 Straight-knife Cutting Machine
​This fabric cutter is probably still the most commonly used in most garment factories. Because some clothes can be cut more accurately by hand, this type of straight knife cutting machine can be seen everywhere in clothing factories.
King of Mass Production – Automatic Cutting Line For Continuous Fabric
This machine is perfect for clothing manufacturers that make huge quantities of clothing. It feeds tubes of fabric into a cutting area that's equipped with something called a cutting die. A cutting die is basically an arrangement of sharp knives in the shape of a garment that presses itself into the fabric. Some of these machines are capable of making almost 5000 pieces in an hour.This is a very advanced device. 
There you have it, you read about four different machines for four different uses when it comes to fabric cutting. For those of you thinking about working with a clothing manufacturer, now you know more about what comes into the price of manufacturing.
To sum it up once more:

For manufacturers that handle huge quantities, automatic cutting lines are the answer

For factories that handle reasonably high quantities, CNC cutting machines are the way to go

For garment makers that make a lot of samples, band-knife machines are a lifeline

For manufacturers that must cut costs everywhere, straight-knife cutting machines are pretty much the only option